When it comes to fashion there is never any shortage of controversy and most recently skinny jeans have taken centre stage in the stand-off between Gen Z, who have collectively cancelled skinnies for being unflattering and lame, and the rest of us.
But just when you thought it couldn't get worse in the inter-generational war against the arguably outdated skinny jean, North Korean leader Kim Jong-un has launched an unprecedented attack on the middle-aged woman's booty shaping bestie by outlawing skinny jeans as a symbol of 'capitalistic lifestyle'.
He also outlawed mullets and body piercings. Not such a bad call.
Up until now, I have refrained from adding my two cents to the skinny jean furore. But with this fresh attack I believe it's my duty to enter into the debate.
In the early 2000s, when dinosaurs roamed the earth and skinny jeans became mainstream, I was smugly rocking my low rise, bootlegs all Christine Aguilera like (I also followed her lead with crotchless chaps for dressier occasions but that's a story for another time). Skinny jeans were, at least initially, a very, very Dirrty word.
But with the passing of time, and admittedly a whole string of skinny jean disasters to my name (think spray painted on and 'nude' in colour), I have developed a true fondness for the life-changing skinny leg jean, and I will fight tooth and nail to retain its title as one of the most wearable permanent trends ever. At the very least it gives us more smart casual options than any wider leg jean style has ever done. No cancellation allowed on my watch. Wear what makes you happy and brings you ease.
Having said that, I am most pleased with the recent comeback of the looser fitting styles of jeans including the boot leg and wide leg versions. Provided the rise remains somewhere in the vicinity of medium-to-high and does not revert to the depths of 90s crack revealing low rise, I'll remain a fan. I do so hope the fashun gods are listening.
I'm also thoroughly enjoying the straight leg, a universally flattering cut of jean on EVERY body shape and I encourage you to try either a longer or cropped/ankle length style.
Click on images to shop (no affiliated links).
The heated debate around skinny jeans illustrates that like all fashion trends, there are always style decisions to be made.
The next pressing winter sartorial choice involves the boot. While the knee-high boot is arguably the 2021 Winter boot of choice, a more controversial boot is being hailed as a must have. It is called the lug sole boot.
Say what?!!
Allow me to fill you in. I had to google it too.
According to Meriam Webster dictionary a lug sole boot is 'one with a thick rubber sole that has deep indentations in a pattern designed to provide good footing and is used on sport and work shoes'.
Here's one I prepared earlier. It's called the Chelsea Lug Soul, as it combines the Chelsea boot style with a lug sole.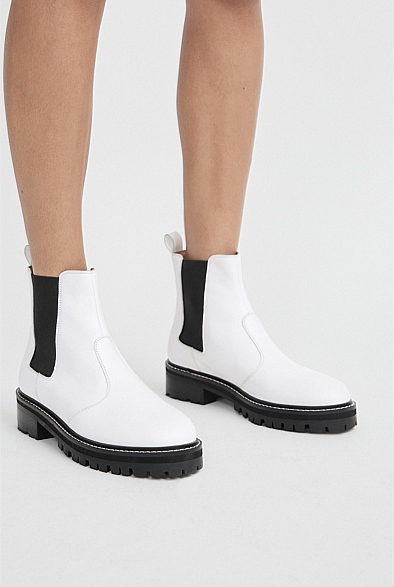 Never before has a shoe repelled me more.
Ok, maybe once before. Anyone remember this delightful look?!!!
My sincere apologies. You cannot unsee that.
It also bears a striking resemblance to my nude skinny jean moment.
Right. Well. Back to the boots.
Despite an intense desire not to, I heaved a pair of lugs over my long-suffering bunions to see whether there was even a shred of hope for them in my winter wardrobe (or any of my clients' wardrobes for that matter).
Well, knock me over with a feather and frock me sideways, I was an instant fan.
Not only did I feel tantalisingly up to date and youthful (despite my pre-historic skinnies) I also experienced a surge of power and protection that I imagine only steel capped toes can bring. I totally got why these boots are known as the apocalyptic boot and pandemic-proof footwear. Come at me killer zombies. I'm ready.
Want to know the best bit though? These not so swoon worthy boots are just the right level of bananas that my fashion instinct tells me I can style them back with absolutely anything and it'll work. Feminine, floaty maxi dress, sexy, sequinned mini or lady-like pleat skirt all included.
Oh. My.
Although I may receive some disapproving looks, I very much doubt anyone will openly question my sartorial choices when I'm wearing these kickass bad boys. They will also come in handy if this absurd war on skinnies continues.
So, tell me, are you willing to fight for your skinnies? Are you, like me, strangely drawn by the lure of the lug boot; an undoubted improvement on the glamourless Ugg boot that many had surgically removed at the end of 2020.
I'm dying to know! Hi, I'm Nicole, and I'm a personal stylist obsessed with helping women in business and corporate roles to experience effortless, stylish dressing, allowing them to stand out for all the right reasons. I bring strategy, solutions and expertise to my clients. I fully understand the challenges women face when trying to achieve a wardrobe that actually works and I take the pain out of shopping for clothes and deciding what to wear. I transform something that feels fraught and complex into a streamlined solution expertly tailored to you.
Cover Image credit: Fi Mims Photography